Here are more pics of Gremlin. He was complaining that he was being falsely represented. He does do more than sleep...




Yawn



Are we going to play now?



I am NOT sleeping. I'm just tired.



Zoned out.



Where did you say the treats were?



Don't mind me. I'm just hanging out.



Many places to hang out.



Did you get my good side?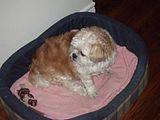 Check out the profile.



This is my imitation of a turtle.



Can we go out now?



Can someone take me off this desk please?